Books and other mechandise.
Written and beautifully illustrated by volunteer Edith Quaggin, The Great Laxey Mine Railway has two children's books about the adventures of our two steam engines, Ant and Bee.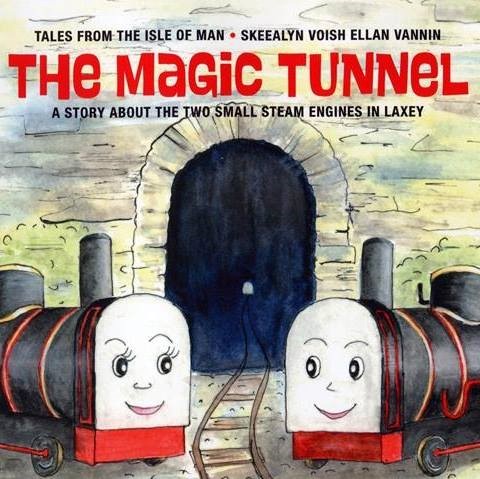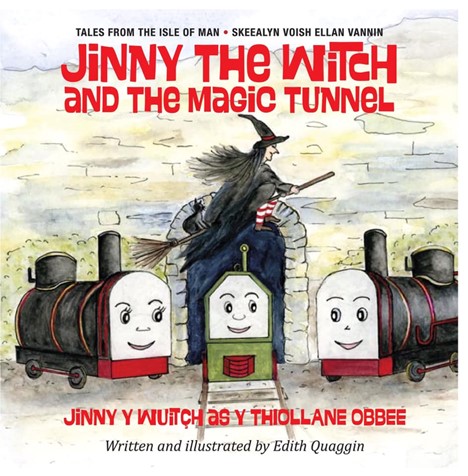 The Magic Tunnel: Ant and Bee fool around in their shed one night and end up travelling back in time through the Magic Tunnel (which is still in use today). They talk to one another about the miners and going into the mine to transport the lead ore to the Washing Floors where women and children work outdoor in dirty condition 
Jinny The Witch and the Magic Tunnel: Ginny visits the Mine one Hop Tu Naa, only for her broomstick to break. This time WASP joins And and Bee on their adventures.
The stories in the books are told in both Manx and English and our thanks go to Culture Vannin for the translations and their financial support.
Both books are available from The Great Laxey Mine Railway with all proceeds going to the Railway. They can be ordered online by sending an email to us via the Contact Us page.  One book costs £5.99 plus £1.61 postage and packing (total £7.60) and both books £11.98 plus £2.17 postage and packing (total £14.15).  Please make cheques payable to the Great Laxey Mine Railway and send orders to GLMR, 11 Alberta Drive, Onchan, Isle of Man, IM3 1LT.
There are a number of publications available which relate to the Mine railway and other local railways. These are listed below and can be obtained from good bookshops in the Island. Some books are no longer in print and as such to obtain a copy it will be necessary to seach on the internet or in a good second hand bookshop. 
Some bookshops on the Island have there own websites and a few are liusted here with hyperlinks:
Lexicon Bookshop: http://www.lexiconbookshop.co.im/
Bridge Bookshop: https://www.bridge-bookshop.com/
Lilly Publications: https://www.lilypublications.co.uk/
The Great Laxey Mine
Author: Andrew Scarffe
Publisher: The Manx Heritage Foundation
Published: 2004
ISBN 10: 095471802X  ISBN 13: 9780954718022
Pages: 232 Size: 26cm x 36cm Hardback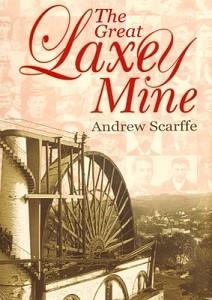 £19.99
Celebrating 150 years of history, this fascinating, in-depth, large-format book looks at the the Great Laxey Mine from its very beginnings. Lavishly illustrated with archive photographs, detailed maps and original plans for the Lady Isabella Wheel.
The Lady Isabella Waterwheel of the Great Laxey Mining Company, Isle of Man
Author    Anders Jespersen
Publisher  Anders Jespersen, Virum, Denmark. 1970
Published: 1970 (3rd edition)
No ISBN number as privately published
Pages  96    Size 22cm X 30cm  Card Covers
The only detailed account of the Laxey Wheel on the Isle of Man - its technology, associated watercourses and mine pumps. 95pp plus fold out plans etc. Privately published by the Author in Denmark, there are three editions. Now out of print but can be found on good second hand book websites and shops.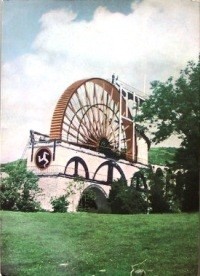 The Railways and Tramways of Laxey
Author: Andrew Scarffe
Publisher  Mannin Media Group Ltd
Published  2014
ISBN  9780956455390
Pages: 174 Size: 22cm x 30cm Hardback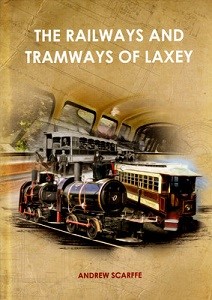 £20.00
One hundred and fifty years ago Laxey was home to one of the richest lead mines in Britain. In one year the Great Laxey Mine produced over 11,000 tons of zinc ore, as much as all the other mines in Britain added together! In this book Laxey resident and historian Andrew Scarffe relates the many tramways and railways which were associated with the Great Laxey Mine plus a few that were proposed but never built.

Uniquely in British mining, Great Laxey used two tiny steam locomotives, Ant and Bee, to haul the mined ore from deep underground to the Washing Floors, where the ore was prepared for sale. Both were unfortunately scrapped in the 1930s following the closure of the mine. Seventy years later the Laxey and Lonan Heritage Trust began the restoration of the surface section of the former tramway using replicas of the original locomotives. To bring the history of Laxey's tramways fully up to date, the story of the rebirth of the Great Laxey Mine Railway, as it is known, is fully related.

Laxey's harbour facilities were poor and a number of steam railways connecting Douglas with Laxey were proposed. This book also recalls the fascinating and unfulfilled proposals. When a railway was eventually built, somewhat ironically it was to be an electric tramway for tourists and the Great Laxey Mine was ignored. Previously unpublished information describes the construction of the famous Manx Electric Railway.

Lavishly illustrated throughout, almost all of the photographs, plans and builders drawings have not been previously published. 
Railways and Tramways of the Isle of Man
Author: Ted Gray
Publisher: Past & Present Publishing Ltd, Kettering.
Published: 2008
ISBN 10:  1858951968  ISBN 13: 9781858951996
Pages: 128   Size: 18cm x 24cm  Cardback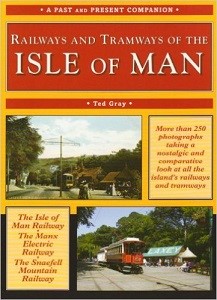 £17.99
The Isle of Man enjoys a wide variety of railed transport. This book features comparative views of various routes, including the Isle of Man Railway, the Manx Electric Railway, the Snaefell Mountain Railway, the Great Laxey Mine Railway and the Groudie Glen Railway.
Narrow Guage Branch Lines: Douglas - Laxey - Ramsey
Author: Tom Heavyside
Publisher: Middleton Press           
Published: 2010
ISBN 10:  1906008752  ISBN 13: 9781906008758
Pages: 96   Size: 175mm x 235mm  Hardback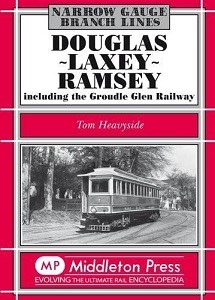 £17.95
The Manx Electric Railway was a pioneer in electric traction and has become a national icon. In this book a full length journey is enjoyed from Douglas to Ramsey together with visits to the Douglas Horse Tramway, the Groudle Glen Railway, the Snaefell Mountain Railway, the Great Laxey Mine Railway and the Ramsey Pier Tramway. Illustrated throughout with both historical and up to date photographs.
Trains and Trams of the Isle of Man (Second Edition)
Author: Barry Edwards
Publisher: Lily Publications          
Published: 2010
ISBN 10:  1899602437  ISBN 13: 9781899602438
Pages: 160   Size: 225mm x 285mm  Hardback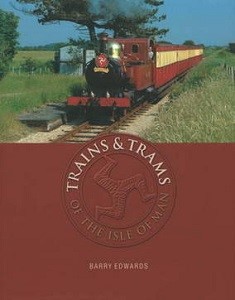 £21.50
This book is an up-to-date photographic survey of the eight surviving railways of the Isle of Man. The oldest of these had its beginnings in 1823, the youngest is hardly out of its infancy.

The photographic journey is accompanied by informative captions supported by a short historical text describing each of the railways.

Detailed maps and a complete fleet list complement this title, making it one of interest to railway enthusiasts across the world as well as many of the visitors to the Isle of Man who want a lasting souvenir of their journey on one or more of the heritage railways.

This Second Edition, published in October 2015, contains over 80 new photographs and many that were previously in monochrome are now reproduced in colour. A small selection of colour images of the closed steam lines have also been included, none of which have been published before. Each of the text sections has been updated to September 2015 and a couple have been almost entirely re-written following further research. Finally, the fleet list is also revised and correct to September 2015.
Laxey - Home to the World's Largest Working Waterwheel
Author: Andrew Scarffe
Publisher  Lily Publications, Isle of Man
Published  December 2014
ISBN 9781907945700
Pages: 96 Size 21cm x 21cm Hardback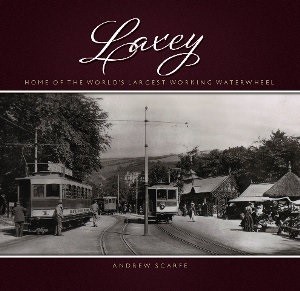 £16.95
Laxey or Laksaa in Manx, is a village on the east coast of the Isle of Man. Its name has been derived from the Old Norse Laxa meaning 'Salmon River'. Local historian Andrew Scarffe has researched this publication and gives the reader a wonderful insight to Laxey in the bygone years. The author has written a brief history of the village and its surrounding districts, together with an overview of the popular historical sites which are now visited by thousands of people a year, accumulating this together with a wealth photographs and captions. 
Lonan: A collection of images through the years.
Author: Andrew Scarffe
Publisher: Lily Publications Ltd.
Published: December 2016
ISBN 10: XXX   ISBN 13: XXX
Pages XX Size XXcm x XXcm  Hardback
The Story of Laxey Flour
Author: Andrew Scarffe
Publisher: The Manx Experience
Published: November 2010
ISBN 10: 0956455328   ISBN 13: 9780956455321
Pages 96 Size 17cm x 25cm  Paperback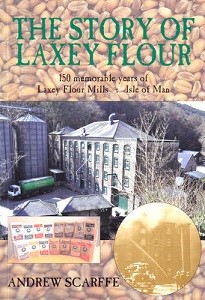 £9.99
This book tells the story of the shaping of the Mill by the personalities involved and the vagaries of business which are all traced in what is an absorbing read - as well as a carefully researched historical, technical and social record of 150 memorable years of Laxey Flour Mills which is the miller of the finest quality, additive-free flour available in the British Isles.