News & Events
Parish Walk
The annual Isle of Man Parish Walk took place on Saturday 17 June 2017. For those who are not familiar with this event, it entails walking to every one of the 17 parish churches on the Isle of Man, a distance of 85 miles over a twenty four hour period. Competitors often use the walk to raise money for various charities and they set their own targets as to how far they walk. 
Two of the volunteers at Great Laxey Mile Railway took part in the event this year and we congratulate them both as the weather was not the best fro walking as it turned out very hot on the day. 
Nick Warner, one of our more recent volunteers walked to Peel, a distance of 30.5 miles in a time of 8 hours, 32 minutes and 12 seconds. Once past Rushen the route involves going up 'the Sloc' which is about two miles of a gruelling uphill slog and this is after you have been walking for over 22 miles at an average pace of about four miles an hour or more. Well done to Nick on this wonderful achievement.
Our other volunteer was Niamh Murdoch who at 18 is one of our younger volunteers. She was raising funds for Age Concern Isle of Man as her chosen charity as part of her fund raising for the Miss Isle of Man Community Challenge of which she is one of the twelve finalists. Niamh had gathered a team of three other friends who planned to walk to Rushen Church (19.5 miles) which is on the outskirts of Port Erin in the South of the Isle of Man. All four achieved this objective within the time limit of 5 hours and 35 minutes. 
Well done to everyone who took part in this community event which raises so much money for so many charities. 
Duck Race 2017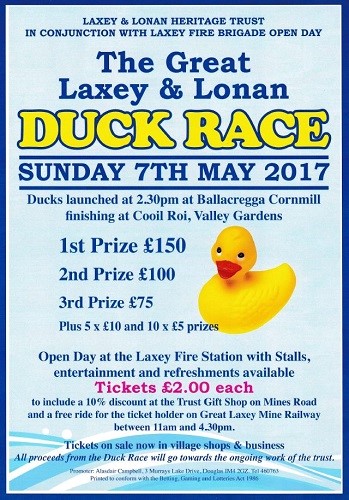 A huge thank you to everyone who helped make the day a great success. 1500 ducks made their way down the Laxey river to the weir just above the Woolen Mill. Due to the dry spell of weather the Isle of Man has experienced recently, the water level in the river was low and therefore the progress of the ducks was slow. As the ducks approached the finish line there was an added hazard of an inshore breeze blowing the ducks back up the river! All good fun especially for all thsoe who went into the river. 
The winners of the Duck Race
1st 1111
2nd 633
3rd 821
4th 350
5th 227
6th 476
7th 1215
8th 1236
9th 221
10th 163
11th 858
12th 377
13th 316
14th 553
15th 538
16th 916
17th 931
18th 44
Congratulations to all the winners.
A great big thank you to Laxey firefighters without whose help we couldn't run this event.
Thank you everyone who bought a ticket, we hope you enjoyed the beautiful weather we organized.
Easter Egg Trail
Saturday 8th, 15th & Sunday 16th April 2017
Trains operating from 11am until 4:30pm
Join us for some Easter fun on the Great Laxey Mine Railway Easter Egg Trail. Follow the clues to find the hidden eggs and enjoy a train ride along the way! Enter our competition for your chance to win a Laxey & Lonan Heritage Trust family membership for one year and a Giant Thornton's Easter Egg!
Adults £2.00
Children £1.00 *
*Children go half price when partaking in Easter Egg Trail. Normal fare £2.00. The Great Laxey Mine Railway is part of the Laxey & Lonan Heritage Trust (Registered charity no. 367A). The railway is operated and maintained entirely by volunteers. For more information please email minerailway@manx.net or visit us on Facebook.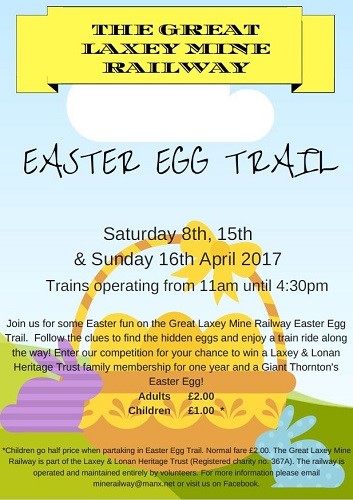 Laxey & Lonan Heritage Shop now open for the 2017 season
As of 1 April, the Laxey and Lonan Heritage shop on Mines Road in Laxey is open from 10 am untill 4.30 pm daily.
WASP
After the electrical and mechanical overhaul of WASP during the winter of 2015/16, she is now being given a new coat of paint. As part of the Manx Heritage Transport Festival we have decided to paint WASP Brunswick Green which is a departure from the lined black livery she has been in since her arrival at Great Laxey Mine Railway in 2009.
Claytons locomotives usually carry a bright yellow livery but as Ant and Bee have been been in Lined Black as they were originally, WASP was delivered in the same black livery.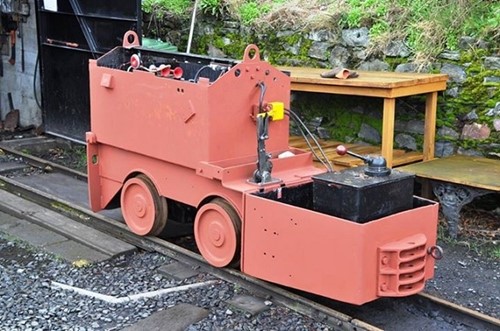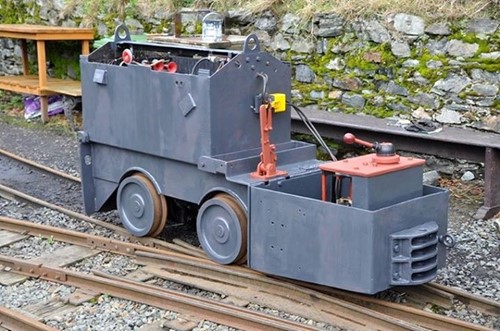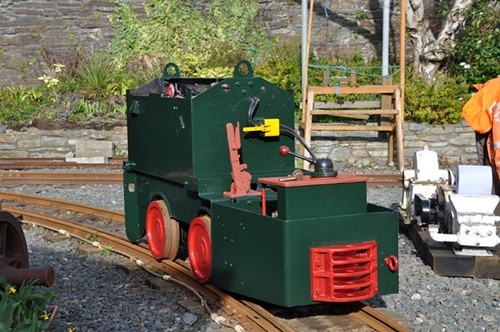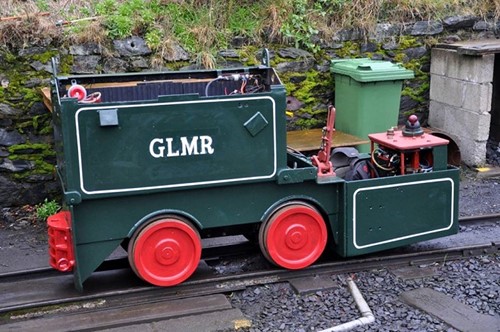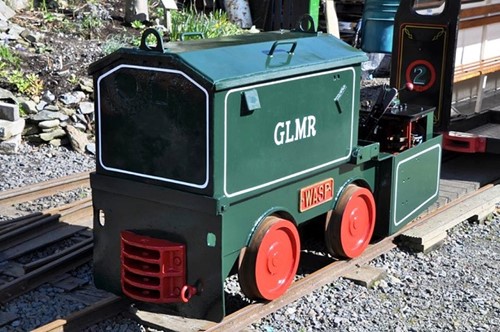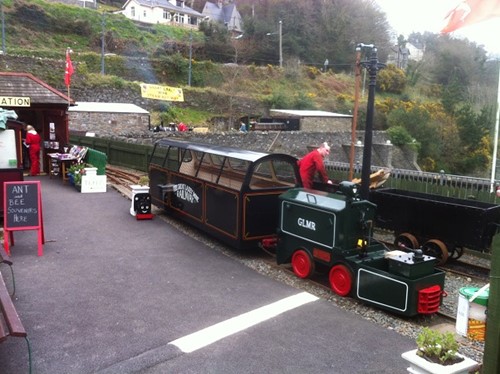 IOM Transport Go Cards
As of the start of the 2017 season, the Great Laxey Mine Railway will be accepting the IOM Transport Go cards for travel on the railway. 
This has not been available to passengers in the past and so it is hoped this change will encourage more people to stop off at Laxey and join us for a trip along our line. 
Todd Taylor
It is with regret that we announce the death of Tod Taylor on 31 December last year. 
Tod had been a volunteer at the Great Laxey Mine Railway from it's earliest days and had been a valued member of the team. He was a regular volunteer often seen guarding trains until he retired from the railway just over a year ago. 
Tod will be greatly missed by all those who knew him. Our thoughts are with his wife Jackie at this sad time. 
Annual Quiz night!
 A huge thank you to all who attended the annual quiz night at the Laxey Working Men's Institute. A good time was had by all who attended raising much needed funds for the trust. 
Laxey Fire Service Event
WASP was deputising for Ant and Bee (who were both undergoing their annual boiler tests) to support our friends at the Laxey Fire Brigade's event on Sunday 20 November 2016. Once again the event was successful and a good time was had by all. 
Thank you to everyone who helped out with the event and for those who traveled on the train. 
Polar Express with J&J Ribbons
Great Laxey Mine Railway supported J&J Ribbons on 7 December from 7pm till 9pm with their Polar Express event.
This proved to be a great success and much fun and excitement was had by all. Santa appeared on the train much to the joy of all the young (and not so young) people who attended. It was reported that there was even some snow during the evening.  
Thank you to all who attended.