News & Events
New Driver
Congratulations to Brian (known to the team as 'Reverend Brian') for passing out as a driver on WASP. Well done Brian and welcome to the team of Drivers. 
Next goal, driving Ant and Bee!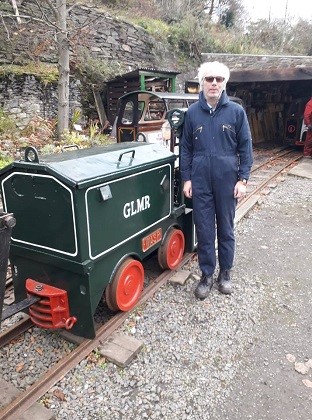 Tribute to the men of Laxey who fell during the Great War.
 A dedication to the men of the parish who lost their lives in the Great war has been placed on the sdies of our carriage as a mark of respect.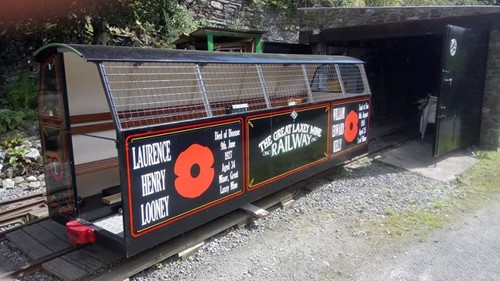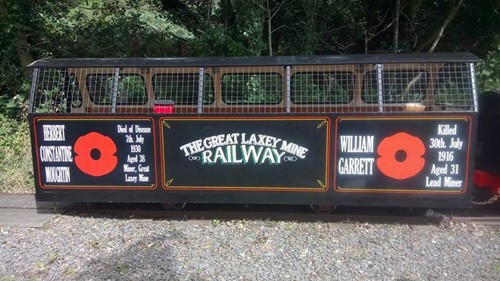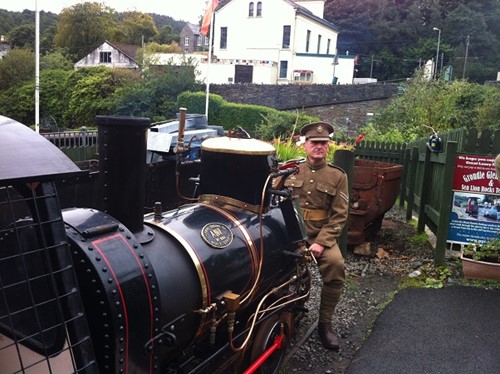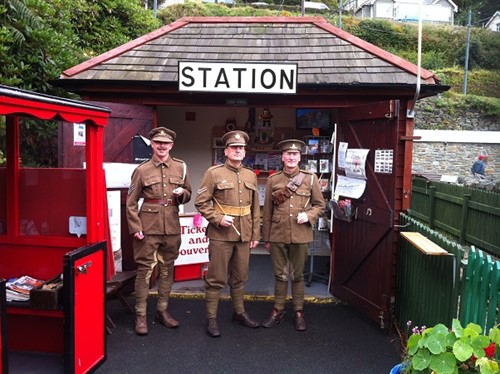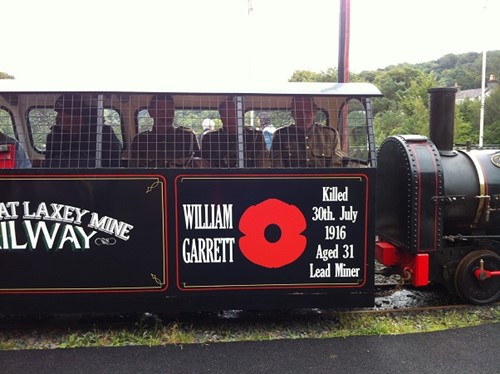 These three soldiers from the Royal Engineers turned up unexpectedly and were telling us that they were looking into their ancestors who fought and died during the Great War. One was called Garrett.Could this be the William Garret that we remember on our Carriage?
Update on Locomotive fleet.
Bee has returned from Alan Keefs after a wheel came loose on the front axle. Other work completed including the coupling rod drive pins which were not equidistance on both driving wheels. Both issues would seem to have been down to the original manufacture of the loco back in 2004. 
Since returning and before reassembly the fusible plug on Bee broke when being removed and due to the yacht type boiler the remains have proved to be very difficult to remove. However we hope to have good news on this front in the next month or so. 
Ant has given good service this season ably assisted when needed by WASP. 
Both Ant and Bee are due to have their annual boiler inspection which it is hoped will be carried out once Bee's fusible plug issue has been resolved so that both loco's can be tested at the same time. This is hoped to be in March which is cutting it a bit fine as we are due to open at the end of the month! 
The Boiler inspection has been carried out and passed with only one minor failure, one of the safety valves will need replacing which is in hand. 
Ant has been successfully steamed with only the mechanical lubricator playing up. 
Bee was steamed today (12 March 2018) after the fusible plug was finally fully removed and the hole retapped to the correct thread. Again there were a few issues but by the end of the day we have a fully working engine. 
Next for the steam test hopefully this coming weekend. 
WASP has been sluggish over the last year or so and we now believe the casue of this is one of the twenty four batteries may have failed. We are now waiting for a load tester for the two volt batteries to identify the faulty unit so that it can be replaced. Until then the engine is soldiering on and giving good service. 
The Load tester has proved that all the batteries are OK but that all twenty four are beginning to get a bit tired (they are eight years old) So we are now looking for sponsorship for a replacement set of batteries. Any offers? We have had quotes but it would be good if we could get a local company to help us out with this project. 
We have finally managed to secure a good deal on the batteries and they are now on their way to the Isle of Man so watch this space for an update as to WASPs performance with her new batteries. 
Manx Electric Railway 125th Anniversary
1st to 8th September 2018 – Save the Date!
Eight days of enthusiast and family orientated special events on the Manx Electric Railway to celebrate the 125th anniversary of the opening on the line on 7th September 1893.
Events List
Saturday 1st September
M.E.R. Motorman lessons
Cars 1, 2, 32 & 33 on timetabled service
Parallel run to Groudle Glen using Cars 1 & 2
Sunday 2nd September – Laxey Family Day
– Family entertainment and village market.
M.E.R. Car 1, Snaefell Car 1 and Douglas Bay Horse Tram 1 at Laxey station with photographic opportunities.
Guided tours of Laxey and Snaefell Car Sheds.
Traveling Post Office with commemorative first day covers.
Evening slideshow and talk.
Monday 3rd September
Special tram with two open wagons.
Official launch of restored Ratchet Car No.14.
Parallel run from Ramsey to Douglas using Cars 1 & 2.
Tuesday 4th September
Derby Castle workshop tours and museum open.
Night photography at Derby Castle yard with the four open crossbench cars posed.
Re-enactment of mail collection from line side mail boxes.
Special tram with two trailers.
Wednesday 5th September
Cars 1, 2 & 3 running shuttles to Groudle. Groudle Station building open and manned.
Tunnel cars on timetabled service.
Open Cars 14 & 16 on a special evening service to Ramsey.
Special tram with three wagons.
Thursday 6th September – Special Timetable
Services operating to a 1975 Timetable.
Tram line up at Derby Castle prior to the services commencing in the morning.
Unusual combinations of Cars and Trailers in use.
Four goods wagons out on service.
Friday 7th September (Anniversary Day) – Special Timetable
Anniversary plaque unveiling at Groudle Station.
Cavalcade of trams through Laxey Station.
Special anniversary timetable.
Illuminated tram and trailer on the timetabled evening service.
Saturday 8th September
MER Mystery Tour
Open trams in service. (Subject to weather)
Unusual combinations of Cars and Trailers in use.
Horse tram cavalcade and evening service.
All events are subject to operational constraints and may be subject to change. Please keep up to date with this page alongside official Isle of Man Transport communication for any changes to the schedule or new information and ticket sales.
Commonwealth Games Queens Baton relay visits GLMR
On Saturday 2 September 2017, the Commonwealth Games Baton relay visited and travelled on the Great Laxey Mine Railway. Arriving in the early afternoon in bright sunshine, the baton tavelled on Carriage 2 hauled by ANT and driven by Ian Smith.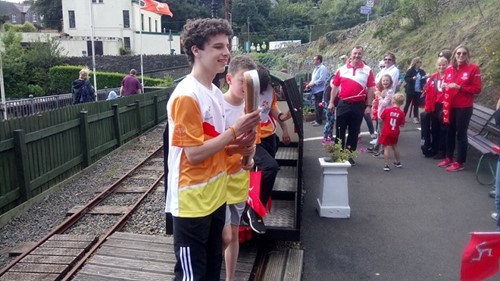 Lloyds staff volunteer again
On Saturday 29 July, volunteers from Lloyds bank visited us again and generously gave of their time to help paint various items such as the engine shed and carriage shed doors as well as the station building. The gardens were also given a welcome tidy up. We would like to say a big thank you to these volunteers for their ongoing support, it is greatly appreciated. 
The lady in the hat is one of our regular volunteers.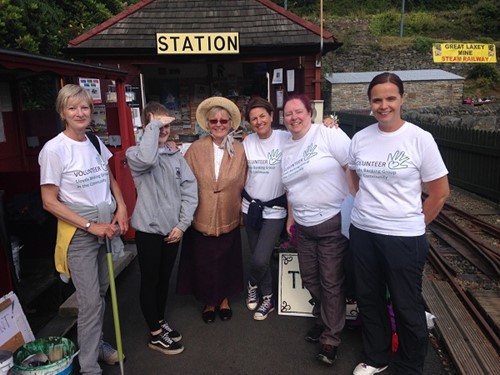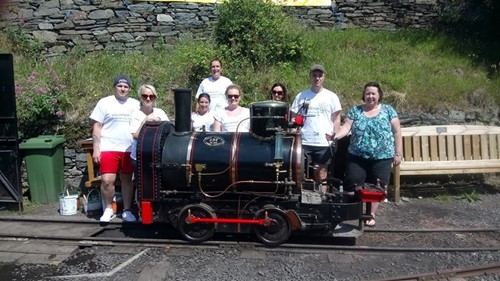 Parish Walk
The annual Isle of Man Parish Walk took place on Saturday 17 June 2017. For those who are not familiar with this event, it entails walking to every one of the 17 parish churches on the Isle of Man, a distance of 85 miles over a twenty four hour period. Competitors often use the walk to raise money for various charities and they set their own targets as to how far they walk. 
Two of the volunteers at Great Laxey Mile Railway took part in the event this year and we congratulate them both as the weather was not the best fro walking as it turned out very hot on the day. 
Nick Warner, one of our more recent volunteers walked to Peel, a distance of 30.5 miles in a time of 8 hours, 32 minutes and 12 seconds. Once past Rushen the route involves going up 'the Sloc' which is about two miles of a gruelling uphill slog and this is after you have been walking for over 22 miles at an average pace of about four miles an hour or more. Well done to Nick on this wonderful achievement.
Our other volunteer was Niamh Murdoch who at 18 is one of our younger volunteers. She was raising funds for Age Concern Isle of Man as her chosen charity as part of her fund raising for the Miss Isle of Man Community Challenge of which she is one of the twelve finalists. Niamh had gathered a team of three other friends who planned to walk to Rushen Church (19.5 miles) which is on the outskirts of Port Erin in the South of the Isle of Man. All four achieved this objective within the time limit of 5 hours and 35 minutes. 
Well done to everyone who took part in this community event which raises so much money for so many charities. 
WASP
After the electrical and mechanical overhaul of WASP during the winter of 2015/16, she is now being given a new coat of paint. As part of the Manx Heritage Transport Festival we have decided to paint WASP Brunswick Green which is a departure from the lined black livery she has been in since her arrival at Great Laxey Mine Railway in 2009.
Claytons locomotives usually carry a bright yellow livery but as Ant and Bee have been been in Lined Black as they were originally, WASP was delivered in the same black livery.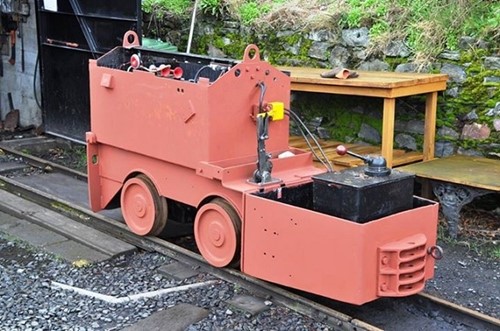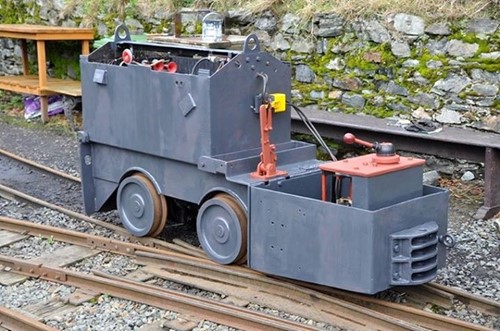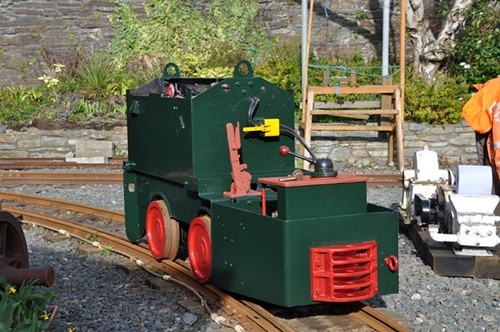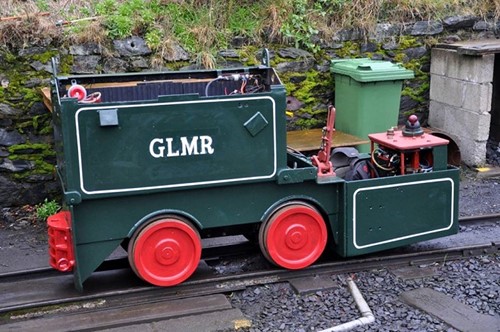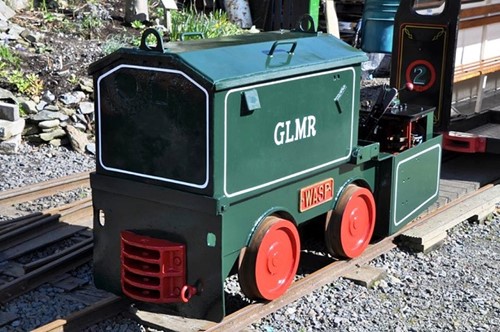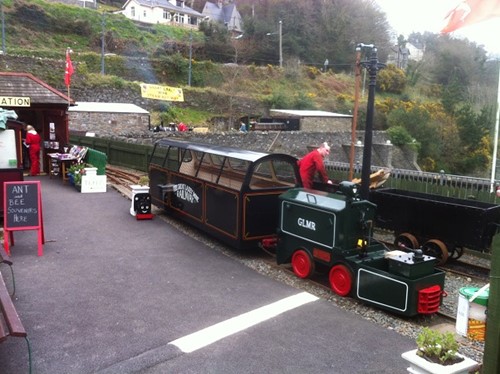 IOM Transport Go Cards
As of the start of the 2017 season, the Great Laxey Mine Railway will be accepting the IOM Transport Go cards for travel on the railway. 
This has not been available to passengers in the past and so it is hoped this change will encourage more people to stop off at Laxey and join us for a trip along our line. 
Todd Taylor
It is with regret that we announce the death of Tod Taylor on 31 December last year. 
Tod had been a volunteer at the Great Laxey Mine Railway from it's earliest days and had been a valued member of the team. He was a regular volunteer often seen guarding trains until he retired from the railway just over a year ago. 
Tod will be greatly missed by all those who knew him. Our thoughts are with his wife Jackie at this sad time.