News & Events
JJ Ribbons Christmas Extraveganza
'cos Santa Claus is coming to town! To help Justine of JJ Ribbons help celebrate her birthday Father Christmas has taken some time out of his busy pre-Christmas schedule, to call in at the railway on Wednesday 5th December between 17.00 and 20.00. It's your chance to have a quick chat with him about what you would like for Christmas whilst you ride through the tunnel. He is going to be riding on every train, but at only £2.00 a trip he will still have lots of money left to get you what you want for Christmas. JJ Ribbons will be open to serve you a hot drink and maybe a piece of cake, to warm you up afterwards as we have been told it is definitely going to snow on the night! And if you need an extra scarfe, why not pop into Whim Boutique which has now opened their new premesis (where Brown's Cafe used to be) as they are also supporting this event. 
We tried to get the Tynwald Polar Bears down but apparently they are busy doing something else that night.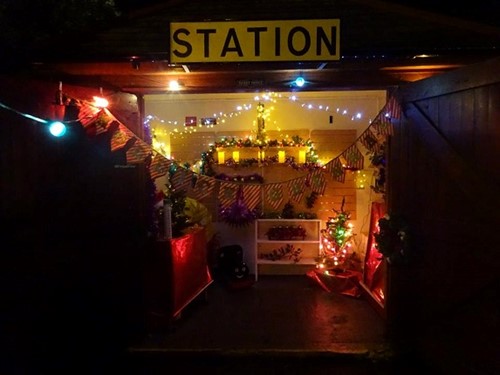 New Driver
Congratulations to Brian (known to the team as 'Reverend Brian') for passing out as a driver on WASP. Well done Brian and welcome to the team of Drivers. 
Next goal, driving Ant and Bee!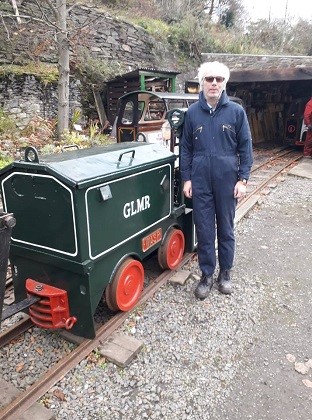 Hop tu Naa Ghost Trains 2018
A date for your diaries. The 2018 Hop tu Naa Ghost Trains will be running on the following dates. Sunday 21 October, Saturday 27 October and Sunday 28 October. The times will be 1 pm until 7 pm each day and as the clocks go back during the early morning of Sunday 28 October, we will be running in the dark. Weather permitting we would hope to have our laser show on this last night.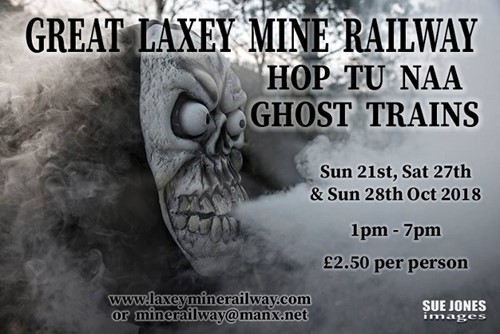 Tribute to the men of Laxey who fell during the Great War.
 A dedication to the men of the parish who lost their lives in the Great war has been placed on the sdies of our carriage as a mark of respect.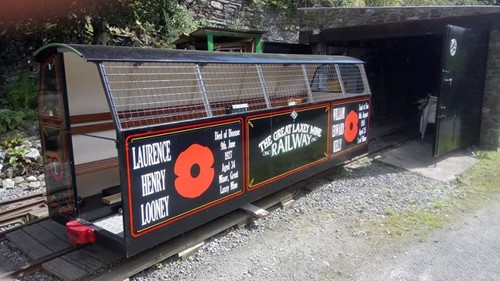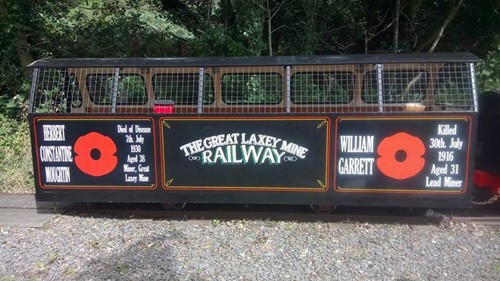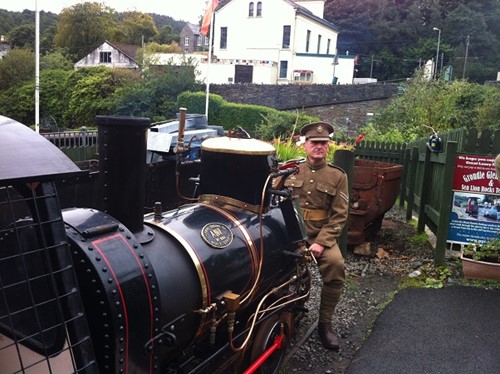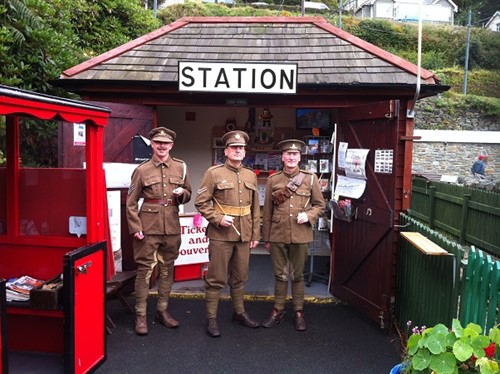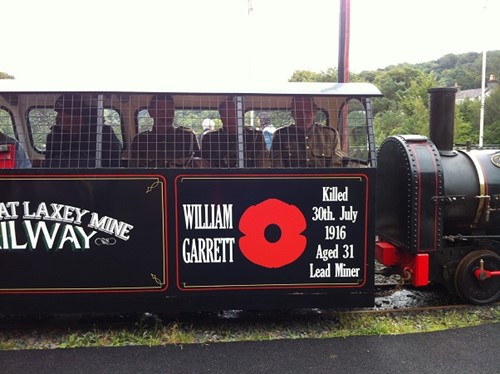 These three soldiers from the Royal Engineers turned up unexpectedly and were telling us that they were looking into their ancestors who fought and died during the Great War. One was called Garrett.Could this be the William Garret that we remember on our Carriage?
Update on Locomotive fleet.
Bee has returned from Alan Keefs after a wheel came loose on the front axle. Other work completed including the coupling rod drive pins which were not equidistance on both driving wheels. Both issues would seem to have been down to the original manufacture of the loco back in 2004. 
Since returning and before reassembly the fusible plug on Bee broke when being removed and due to the yacht type boiler the remains have proved to be very difficult to remove. However we hope to have good news on this front in the next month or so. 
Ant has given good service this season ably assisted when needed by WASP. 
Both Ant and Bee are due to have their annual boiler inspection which it is hoped will be carried out once Bee's fusible plug issue has been resolved so that both loco's can be tested at the same time. This is hoped to be in March which is cutting it a bit fine as we are due to open at the end of the month! 
The Boiler inspection has been carried out and passed with only one minor failure, one of the safety valves will need replacing which is in hand. 
Ant has been successfully steamed with only the mechanical lubricator playing up. 
Bee was steamed today (12 March 2018) after the fusible plug was finally fully removed and the hole retapped to the correct thread. Again there were a few issues but by the end of the day we have a fully working engine. 
Next for the steam test hopefully this coming weekend. 
WASP has been sluggish over the last year or so and we now believe the casue of this is one of the twenty four batteries may have failed. We are now waiting for a load tester for the two volt batteries to identify the faulty unit so that it can be replaced. Until then the engine is soldiering on and giving good service. 
The Load tester has proved that all the batteries are OK but that all twenty four are beginning to get a bit tired (they are eight years old) So we are now looking for sponsorship for a replacement set of batteries. Any offers? We have had quotes but it would be good if we could get a local company to help us out with this project. 
We have finally managed to secure a good deal on the batteries and they are now on their way to the Isle of Man so watch this space for an update as to WASPs performance with her new batteries. 
Duck Race 2018
The date for the 2018 Duck Race has been announced. It will be on Sunday 13 May and will be the same format as 2017, starting at the bridge by the Salmon Centre and finishing by the wier by the Woollen Mills. 
Tickets are available from the Heritage shop on Mines Road, Laxey, from JJ Ribbbons in Laxey, The Laxey Post Office and the GLMR station. Tickets cost £2 each and the prizes are £150, £100, £75, 5 x £10 and 10 x £5.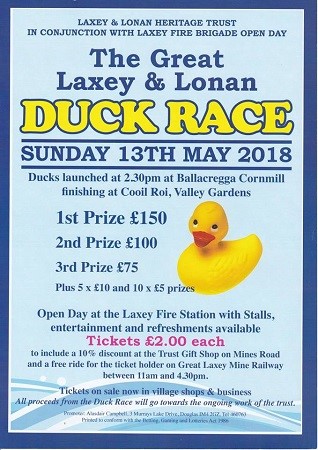 Manx Electric Railway 125th Anniversary
1st to 8th September 2018 – Save the Date!
Eight days of enthusiast and family orientated special events on the Manx Electric Railway to celebrate the 125th anniversary of the opening on the line on 7th September 1893.
Events List
Saturday 1st September
M.E.R. Motorman lessons
Cars 1, 2, 32 & 33 on timetabled service
Parallel run to Groudle Glen using Cars 1 & 2
Sunday 2nd September – Laxey Family Day
– Family entertainment and village market.
M.E.R. Car 1, Snaefell Car 1 and Douglas Bay Horse Tram 1 at Laxey station with photographic opportunities.
Guided tours of Laxey and Snaefell Car Sheds.
Traveling Post Office with commemorative first day covers.
Evening slideshow and talk.
Monday 3rd September
Special tram with two open wagons.
Official launch of restored Ratchet Car No.14.
Parallel run from Ramsey to Douglas using Cars 1 & 2.
Tuesday 4th September
Derby Castle workshop tours and museum open.
Night photography at Derby Castle yard with the four open crossbench cars posed.
Re-enactment of mail collection from line side mail boxes.
Special tram with two trailers.
Wednesday 5th September
Cars 1, 2 & 3 running shuttles to Groudle. Groudle Station building open and manned.
Tunnel cars on timetabled service.
Open Cars 14 & 16 on a special evening service to Ramsey.
Special tram with three wagons.
Thursday 6th September – Special Timetable
Services operating to a 1975 Timetable.
Tram line up at Derby Castle prior to the services commencing in the morning.
Unusual combinations of Cars and Trailers in use.
Four goods wagons out on service.
Friday 7th September (Anniversary Day) – Special Timetable
Anniversary plaque unveiling at Groudle Station.
Cavalcade of trams through Laxey Station.
Special anniversary timetable.
Illuminated tram and trailer on the timetabled evening service.
Saturday 8th September
MER Mystery Tour
Open trams in service. (Subject to weather)
Unusual combinations of Cars and Trailers in use.
Horse tram cavalcade and evening service.
All events are subject to operational constraints and may be subject to change. Please keep up to date with this page alongside official Isle of Man Transport communication for any changes to the schedule or new information and ticket sales.
JJ Ribbons Christmas Extraveganza and Santa Trains.
Once again JJ Ribbons has organised a very special event to take place on Wednesday 6 December at 6 pm at the shop in Laxey at the Junction of New Road, Captains Hill and Dumbells Terrace on Mines Road.
The Great Laxey Mine Railway will be running with a very special Guest on the train. 
Come and join in the festive fun, we look forward to seeing you.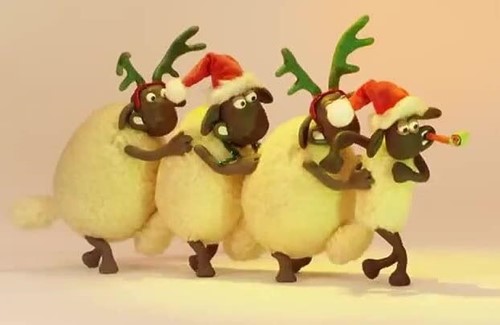 Let's get together again and celebrate Christmas.
Come down and enjoy some festive treats and handcrafted gifts made by our local artisans. 
Plus The Great Laxey Christmas Railway 
🚂 with the big man himself Father Christmas 
🎅🏻
🎄
🎅🏻
🎄
Commonwealth Games Queens Baton relay visits GLMR
On Saturday 2 September 2017, the Commonwealth Games Baton relay visited and travelled on the Great Laxey Mine Railway. Arriving in the early afternoon in bright sunshine, the baton tavelled on Carriage 2 hauled by ANT and driven by Ian Smith.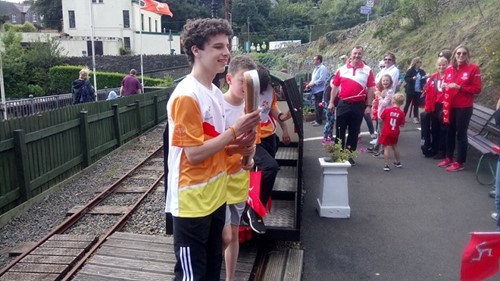 Lloyds staff volunteer again
On Saturday 29 July, volunteers from Lloyds bank visited us again and generously gave of their time to help paint various items such as the engine shed and carriage shed doors as well as the station building. The gardens were also given a welcome tidy up. We would like to say a big thank you to these volunteers for their ongoing support, it is greatly appreciated. 
The lady in the hat is one of our regular volunteers.