News & Events
Tesco Bags of Help initiative
Thank you to everyone who voted for the Laxey and Lonan Heritage trust in the recent Tesco Bags of Help initiative. The trust came third in the initiative which resulted in a reward of £8000. This will go towards the maintenance and painting of the Lady Evelyn Water Wheel in the Valley Gardens in Laxey, just beneath the railway's station, engine and carriage sheds. 
Old News
Duke of Edinburgh Gold Candidate
The 6 August 2016 marked the start of a visit by James Blyth, a 16 year old lad from Hertfordshire who asked if he could volunteer at the railway as part of work towards his Duke of Edinburgh Gold award. This is the residential part of his award. 
James carried out a variety of tasks today starting at 7:30 am helping to steam Ant and open the railway up for the days work. 
James continued his volunteering on Sunday 7 August and then during the week on projects including our Tuesday volunteering and Wednesday helping with the restoration of Tram 14 of the Manx Electric Railway.
James has been a real asset to the GLMR and we are only sad that James will be returning to the UK and not staying on to voluteer in the future. We wish James well with his Award and hope that he can complete this successfully.
Laxey Fair - 25 June 2016
Laxey Fair proved to be a great success with the weather being kind to us and the crowds turning out for the fair as well as the railway.
Thank you to everyone who turned out and especially to the local constabulary who seemed to have acquired a new traffic vehicle!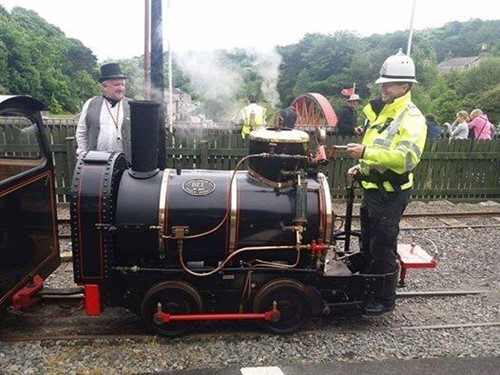 Passed Driver
On Saturday 18th June 2016 the Great Laxey Mine Railway passed out its latest driver of Ant and Bee.
James Aitchison was passed as a driver by Joseph Rock after a day of testing. Well done to James and welcome on board as our latest steam driver.
James was trained by one of our senior drivers who survived the experience!
We already have another trainee driver waiting to start their duties towards getting their credentials to drive Ant and Bee.
Once again, Congratulations to James on passing out as our latest Steam driver. 
Storm Damage 3rd December 2015
A new bridge has been constructed on the site of the bridge which was severely damaged in the storms of December 2015. This new bridge has now opened to traffic but still needs some work to complete the final touches. 
The Corn Mill and Salmon Centre have fully reopened for business after a full refurbishment.
Here is a link from MTTV showing some of the devastation from the floods in December of 2015.
2019 Hop Tu Naa Trains
The World Famous Hop Tu Trains are back on Sunday 20th, Saturday 26th and Sunday 27th October.