News & Events
Easter Egg Trail
Saturday 8th, 15th & Sunday 16th April 2017
Trains operating from 11am until 4:30pm
Join us for some Easter fun on the Great Laxey Mine Railway Easter Egg Trail. Follow the clues to find the hidden eggs and enjoy a train ride along the way! Enter our competition for your chance to win a Laxey & Lonan Heritage Trust family membership for one year and a Giant Thornton's Easter Egg!
Adults £2.00
Children £1.00 *
*Children go half price when partaking in Easter Egg Trail. Normal fare £2.00. The Great Laxey Mine Railway is part of the Laxey & Lonan Heritage Trust (Registered charity no. 367A). The railway is operated and maintained entirely by volunteers. For more information please email minerailway@manx.net or visit us on Facebook.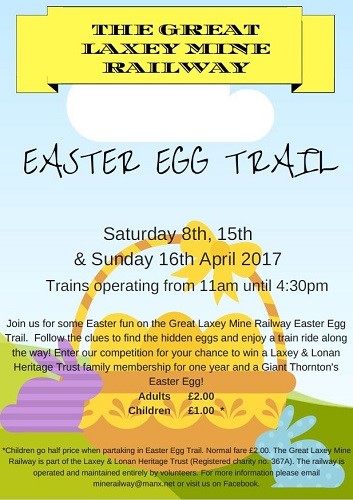 Laxey & Lonan Heritage Shop now open for the 2017 season
As of 1 April, the Laxey and Lonan Heritage shop on Mines Road in Laxey is open from 10 am untill 4.30 pm daily.
WASP
After the electrical and mechanical overhaul of WASP during the winter of 2015/16, she is now being given a new coat of paint. As part of the Manx Heritage Transport Festival we have decided to paint WASP Brunswick Green which is a departure from the lined black livery she has been in since her arrival at Great Laxey Mine Railway in 2009.
Claytons locomotives usually carry a bright yellow livery but as Ant and Bee have been been in Lined Black as they were originally, WASP was delivered in the same black livery.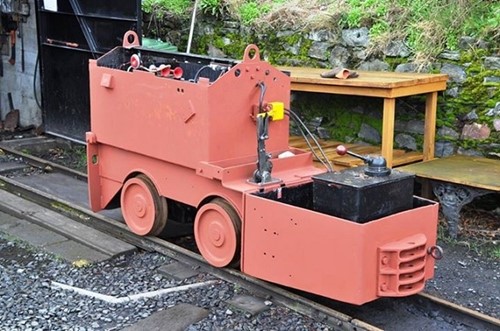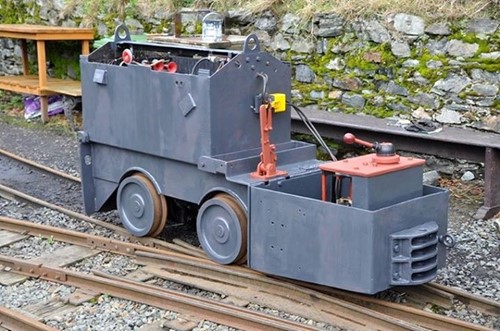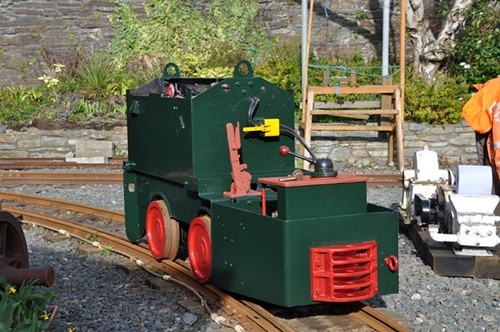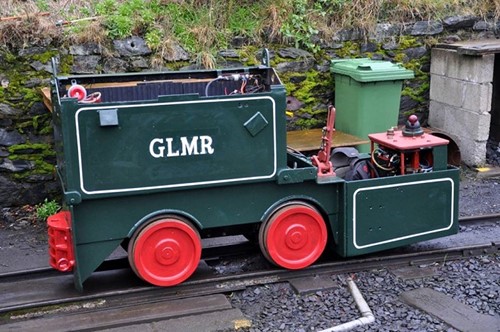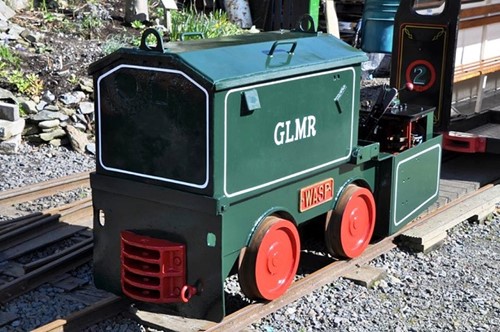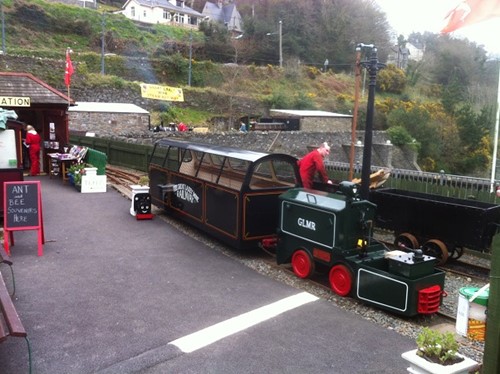 IOM Transport Go Cards
As of the start of the 2017 season, the Great Laxey Mine Railway will be accepting the IOM Transport Go cards for travel on the railway. 
This has not been available to passengers in the past and so it is hoped this change will encourage more people to stop off at Laxey and join us for a trip along our line. 
Todd Taylor
It is with regret that we announce the death of Tod Taylor on 31 December last year. 
Tod had been a volunteer at the Great Laxey Mine Railway from it's earliest days and had been a valued member of the team. He was a regular volunteer often seen guarding trains until he retired from the railway just over a year ago. 
Tod will be greatly missed by all those who knew him. Our thoughts are with his wife Jackie at this sad time. 
Annual Quiz night!
 A huge thank you to all who attended the annual quiz night at the Laxey Working Men's Institute. A good time was had by all who attended raising much needed funds for the trust. 
Laxey Fire Service Event
WASP was deputising for Ant and Bee (who were both undergoing their annual boiler tests) to support our friends at the Laxey Fire Brigade's event on Sunday 20 November 2016. Once again the event was successful and a good time was had by all. 
Thank you to everyone who helped out with the event and for those who traveled on the train. 
Polar Express with J&J Ribbons
Great Laxey Mine Railway supported J&J Ribbons on 7 December from 7pm till 9pm with their Polar Express event.
This proved to be a great success and much fun and excitement was had by all. Santa appeared on the train much to the joy of all the young (and not so young) people who attended. It was reported that there was even some snow during the evening.  
Thank you to all who attended. 
Hop tu Naa Ghost Trains
A huge thank you to every one who has helped out with our Hop tu Naa Ghost Trains this year. We would especially like to thanks ACE hire who once again have gone above and beyond to supply our generator and compressor along with a port a loo free of charge.
Our friends from the Donut Factory supplied Manx Mini Donuts along with tea, coffee, soft drinks, hot dogs and soup, which was most welcome. 
We had great support from the Radio Stations on the Isle of Man, Manx Radio, 3FM and Energy FM which we are very grateful for. 
The Laxey Commissioners for their support and the loan of the fairy lights yet again, thank you. 
J&J Ribbons stayed open during the event to support us, thank you.
Manx Tails published one of our posters along with a write up for the event so thank you to them.
The Special FX Skeleton Crew did a superb job of setting up and keeping running all the effects along the line so thank you to all of them. The laser show that occurred after darkness fell was excellent, thank you again.  
We look forward to seeing the results of the footage from all the photographs and videos that were taken along with the footage from the drone that was seen hovering over head. 
And to all the public that turned out to ride on the trains, we hope you all had fun and will join us again next year when we will do it all again where we hope to have at least one new special effect.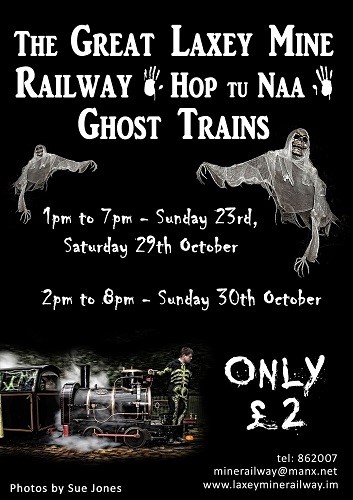 Here is a link to the Hop tu Naa Ghost trains in action from 2015.
Tesco Bags of Help initiative
Thank you to everyone who voted for the Laxey and Lonan Heritage trust in the recent Tesco Bags of Help initiative. The trust came third in the initiative which resulted in a reward of £8000. This will go towards the maintenance and painting of the Lady Evelyn Water Wheel in the Valley Gardens in Laxey, just beneath the railway's station, engine and carriage sheds.